My favorite gift to give at a shower is a children's book. Some invites even ask for a book in leu of a card - so I figured I could share some of my favorite children's books in case you find yourself amidst a number of fertile friends, as I myself have experienced. (note: these books aren't your typical Goodnight Moon or I'll Love You Forever - those are great but if you're going to a shower you don't always want to be a repeater)
The Peace Book
by Todd Parr
"Peace is making new friends" and better yet,
"Peace is having enough pizza for everyone in the world"
Chicka Chicka Boom Boom
by Bill Martin Jr.
I read this one like I'm droppin' a phat beat.
(in the hopes my niece and nephew are laughing with me not at me)
The Missing Piece Meets the Big O
by Shel Silverstein
I love this one enough to get a tattoo of it. So there's
that
.
Hope for the Flowers
by Trina Paulus
This one is pretty wordy and reads more like a short story but the metaphors are so beautiful.
One of my favorite adult books, "
When the Heart Waits
" by Sue Monk Kidd, relies heavily on the simple message of this book.
I Like You
by Sandol Stoddard Warburg
I think this little gem is the perfect mix of sweet and silly.
I gave it to Neil for our first Valentines Day when the big "L" word still gave me hives.
Later we used a quote from it on our wedding programs....
Go the F*ck to Sleep
by Adam Mansbach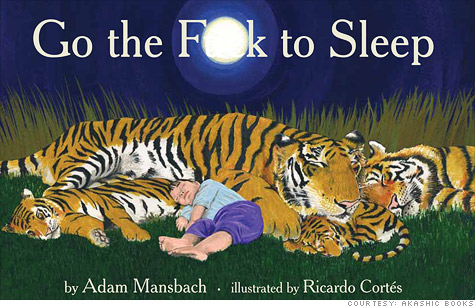 This is less of a book for children and more of a book for adults.
If you can take a light hearted approach to the difficulties of trying to get a child to go to sleep, then this would likely be the book for you - better to laugh than pull out your hair right?
Do you have any favorites that I missed? I'm always looking for new ones to gift away!